T_T
Nouuu!~
My Only Pullip doll is now almost garbage.
****BEFORE YOU READ on: YOu should know that I'm new at this custom thing, not that you really need to know, but I've recently been getting some rude comments about needing to "try harder" with my custom dolls, well If you don't have anything to share to help me better my work, then don't bother sharing. I don't care to hear your negative thoughts, I am rather fond of my POORLY CUSTOM DOLLS! K Thanks. ****
I've been trying to get a pullip doll in my collection, but with trying to keep a tight budget I've yet to get one.
I did win a bid on ebay though for this mini pullip which I thought I got a deal out of at $5. =D
I rewiged her and made her some clothes and then I wanted to make her another wig, so I was going to pull off the one I made but since it was hot glued on, it took a bit of tugging and I ended up just snapping her little neck.
=[
So then I got this idea to give her a new body. I used a Juku Couture Jun body for her since it's the closet body I had to match even though her skin color didn't match too well.
AFter snapping off the top clip on the neck joint it fit in place nicely. Only problem was she had a awkwardly long neck. So I got this idea to try to make her neck hole bigger by using a hot knife and melting the edges around till it was wide enough to fit the Juku body neck.
Unfortunately this experiment went hayward and yeah I don't really know what I was doing and thinking about it now it just wouldn't work because I don't know how the head would hold onto the neck since it wouldn't be connected to the joint. Not only that but I ended up melting the tube where the screw for her head goes in so It wouldn't of been able to be screwed back together. I needed a smaller knife, or a smaller tool to use to melt the plastic. If I try this again and I probably will since mini Pullips are much cheaper, I think I'm going to try to mess with the body neck instead. Try to make that shorter - I just don't know how I would do it without messing up the neck joint. I'll have to play around with it.
IN the end, I tried salvaging her, glued her head together, glued her wig back on, gave her some makeup and stuffed her head with PUtty. At first I thought the putty would hold the head nicely without having to glue it so I can still move her head around but won't just fall off. After using a whole egg of silly putty, it didn't work to well. So now she's got a head full of putty.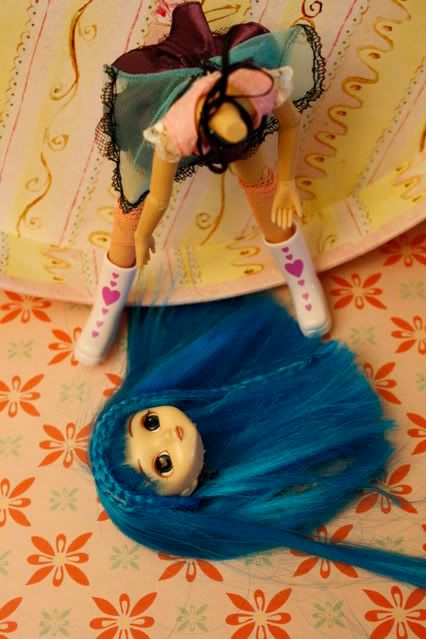 I added some silicone sealer and after drying it works nicely. It's flexible enough to move her head around (If I pulled hard enough it would probably come off) but it also doesn't just fall off.
I like her, She's super cute!
AFter my attempt at some makeup:
I actually went on the "extreme" make up route as I ended up messing up with my shaky hands, but I like how it worked.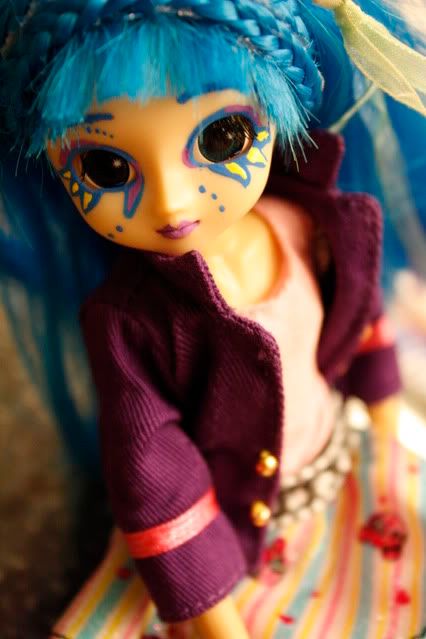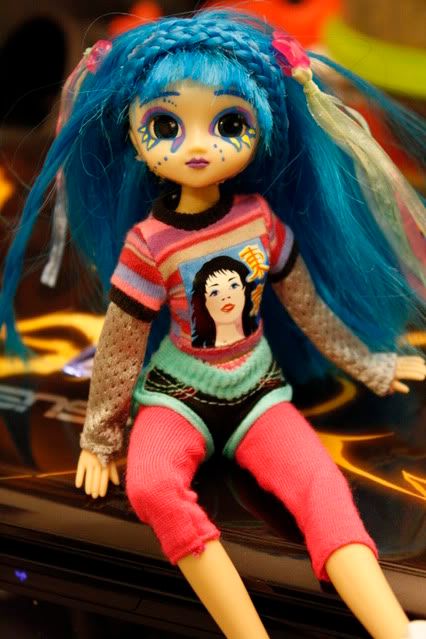 NOw I want to make her some clothes.
And find a new body for Jun. XD