This commission was a altering of a pre-made suit which was provided by the customer.
I would of rather have made this costume from scratch, but she already spend the money on the suit, so I did what I could. Maybe some people think it's easier to do it this way, but it was hard enough to find fabric to match the fabric that the suit was made out of. Closest I could find in yellow was entirely too transparent, even if I doubled it over it would still be transparent. =/
I went with a lycra/spandex style fabric and I dont remember exactly what it is, but its not the same as the suit. IT was the yellow I found least transparent and I really just liked the color of it. IT was perfect I thought. The stretch was also a little less than the suit was made out of so sewing the two together proved to be a challenge. Thinking about it now I should of just cut the yellow fabric on the bias, that might of helped it be at it's max stretch.
The suit: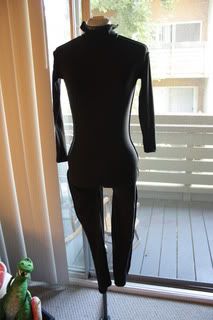 I drew the pattern on the suit and then cut it out: If it seems simple.. it's not.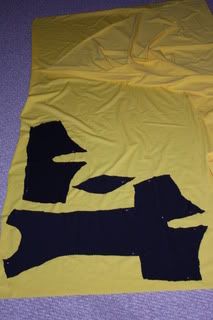 Method one of the gloves, using a pattern.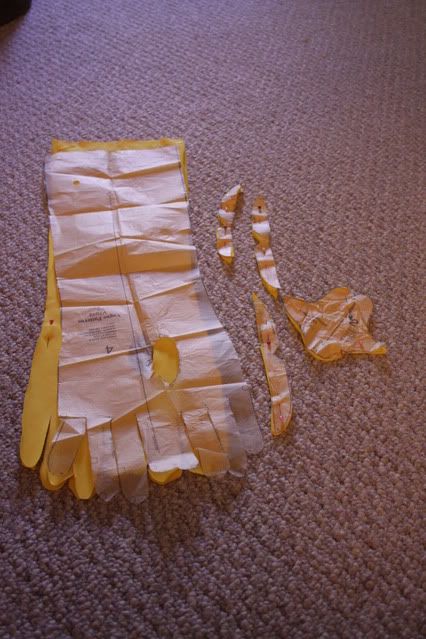 Second method I used this tutorial I came accros on deviant art:
http://browse.deviantart.com/?qh=&section=&global=1&q=lycra+glove+tutorial#/d286c5z
However mine came out just a little too tight, I think the pattern method worked better, but I did send both gloves, which ever works for her.
Tutorial method: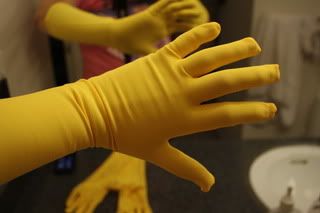 Patterned Gloves: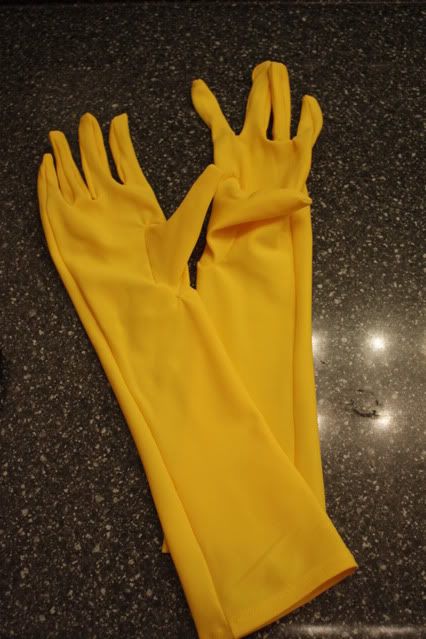 OMG Gloves! XD
Middle section shorts sewn together: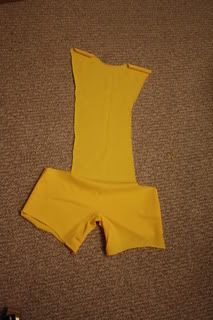 Then attached to the black suit: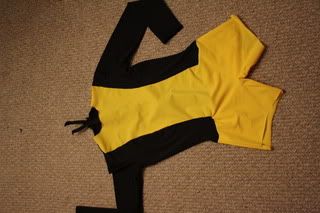 Back: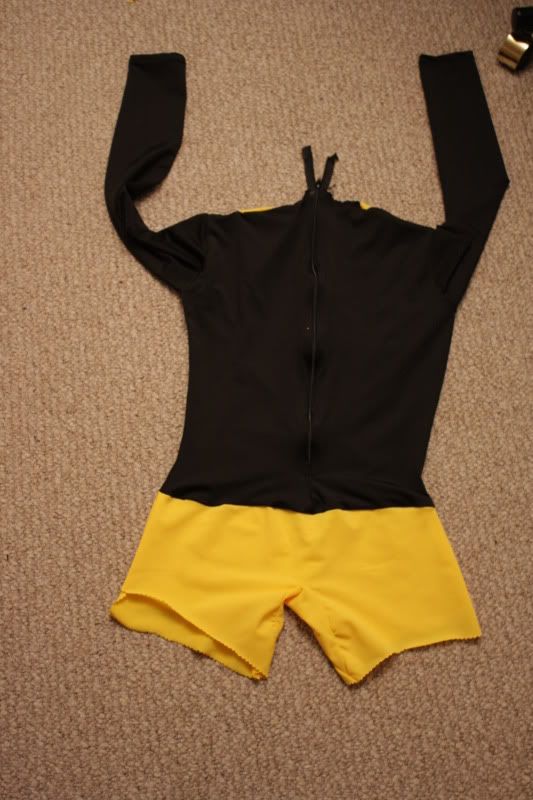 Since the stretch on both was different, I pinched the seams in a couple of places (should of used more pins), I used a stretch sticth to sew together so seam ripping through that is almost impossible. I fixed them best I could. IT's not too noticeable unless your right up on it.
BAck side.
The collar is a little off on the back, but after the bajillionth remake I gave up. This is the best I could get it. IT just didn't quite line up, probably because I cut the fabric off (should of made a pattern). You think it's just a freakn' rectangle how hard is that to cut and sew... apparently too hard. You should of seen it the first time, it was ridiculously off. *sweatdrop* The zipper threw me off too, I should of just taken off the whole zipper. That would of probably been alot easier but the zipper was kind of cheap quality I felt If I took off the whole thing I might just have to replace it. So I didn't.... This part I think would of been easier if the suit was all made at the same time.
She agreed. XD
"I don't know what side is right side mama.... "
LOL
I'm really happy with the end results.
The hardest part was sewing the collar back in and making the gloves. I've made successful pair of gloves before but making them out of spandex/lycra was totally different.
I hope everything fits good and works out and hopefully I'll get some pictures.
THanks for reading.