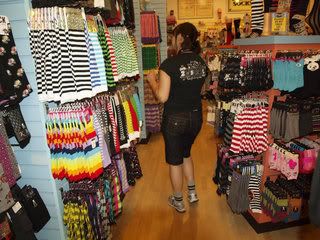 ^_^
Well in case your wondering the dolls I will be posting for sale on my Etsy will be made out of new socks.
lol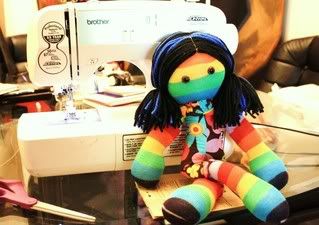 So I've been getting quite a few requests and people wanting to place orders for my Sock Dolls, and I just decided that I"m not taking any "orders".
I'm just not sure how to go about it (pricing and all) since I just make up a doll as I go along and no one doll is ever quite like the other.
I mean I've been making them all day today and.. they are all different, even if I used the same kind of sock.
So I've been telling everyone to just wait until I list them on my Etsy shop and that way you check them out and pick one you really like.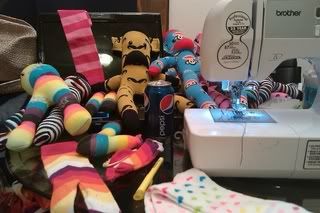 If you have specifics, like you want a lady gaga inspired doll (I'll be making some to list anyhow cuz lady gaga = hearts ) or you want a batman monkey, then yea, place an order.

I'll be selling the monkeys starting at $30 they are about 24in tall and 16in in arm length.
The dolls will be selling starting at $25 they range from 11in to 18 in.
REally it all depends on how I make them, the socks I use, how I decide to dress them. Ect.
So I'll keep you guys posted on what I list on Etsy.
Looking around Etsy to compare pricing, I found some ammmmazing sock artist!
Marible made is probably my absolute favorite!
My monkeys are far from being that good, but I just started so I hope to get better.
I love the sockdrawer too!
Check out this monkey!
Awesome!
Zparkleys is also another favorite!
I WANT THIS MONKEY! (of course I'll probably just make a zombie one for myself. =p)