It's been a few months since I"ve knitted or crochet anything. I have found that crochet is easier for me than knitting with needles. I also find it more fun, but I do love to loom knit. LOOM KNIT FTW!
Last year when I was really getting curious about knitting and crochet, I went on a book buying frenzy at half priced books and stocked up books about knitting and crochet. I randomly pulled out this book about Amigurumi the other day which is the Japanese art of crocheting small animals/dolls.
It's worked in spirals and mostly in single crochet so it's kinda easy, well sounds easy, but somehow mine just didn't turn out right. It could also be that I just don't follow patterns right, I"m still very new to this.
The hardest part of Amigurumi I've found, is sewing the pieces together. It's a bit tedious and I tend to get impatient. I"m also not very good at weaving in the tail ends, I've had them come a bit unraveled, but it's probably because I also get impatient with that as well. I weave it in two or three stitches and call it good. *sweatdrop*
I do want to get better at it and I happen to love doing it so eventually with time maybe I will purfect it.
This is my first bear and it looks nothing like the book pattern. LOL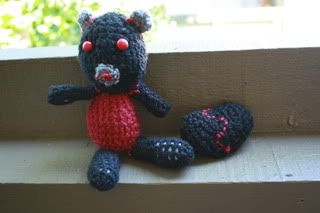 (That's a 'broken' heart next to him - in case you can't tell. ha!)
It's a heck of alot bigger, I dont know how that happened. I also didn't crochet very tightly and I used a pretty big hook so the stitches don't look like your average amigurumi.
I decided to call him The Bear With The Broken Heart,
since all the bears after him will probably be better and that makes him disgruntled.
But also because I was thinking about my brother's blog, Which you should go check out. You might find it's an interesting read.
http://angelbrrr.blogspot.com/
My second bear came out a lot better I think. The size is right~! =p
I couldn't' find any of the cool eyes you see on most amigurumi stuff, apparently I have to order them online. I couldn't find them at the craft store, but I found these oogily eyes that looked kinda cool. Except when I put them on the bear they look kinda creepy. LOL
I call this bear MR. Lady.
Then I think I got the best looking bear so far. Three times a charm? The eyes are wrong for it I think, they are a bit too big and so.. this bear still doesn't look quite right. And he is missing the stitching on his facehole.
Then I decided to get crazy, and I tried to make a doll, but not just any doll.
I decided to make a Candy Diamond (from KOF)doll.
I've wanted one since I cosplayed Kula Diamond. I tried to make my own and failed several times in 2007 - I haven't tried again since. I dont even want to show you pictures it's embarrassing. =p
Alright, I'll show you one of my better attempts: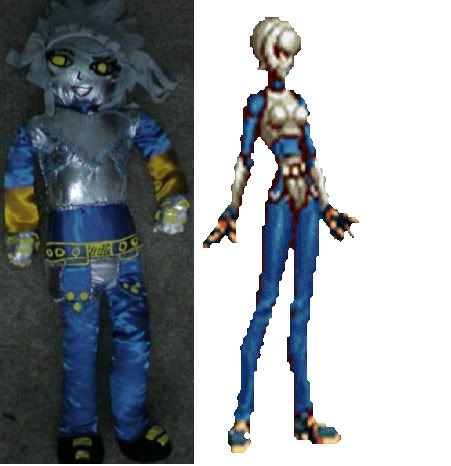 So not knowing much about crochet, even less about crochet design, I tried to make Candy Diamond yet again.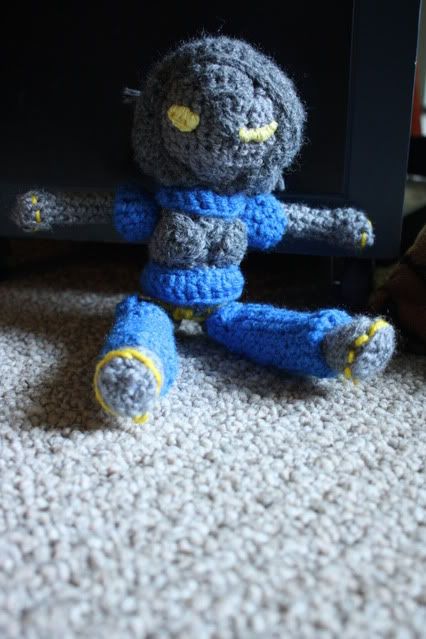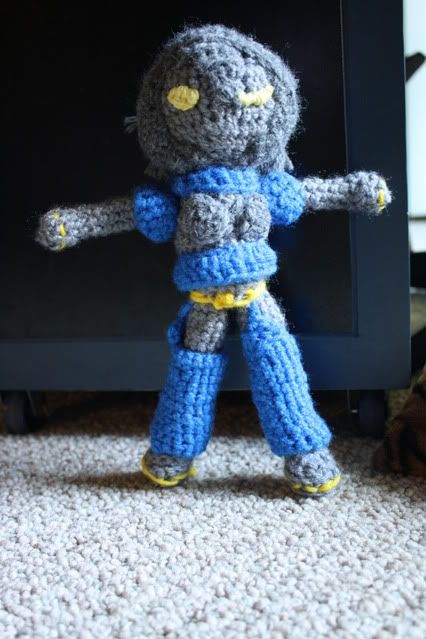 She's kinda fail, but I like it! My best Candy Doll so far.
I will of course try to make her again sometime. Bigger next time.
The eyes are stupid, tried embroidering but I don't know much about it. YET.
This is all I have for now, my broken heart collection.